【What You Get】It Includes 3 Real Make Up Brushes, 2 Play Eye Shadows, 2 Play Compact Power, 1 Play Blush, 1 Play Square Giltter, 2 Play Round Golden Giltter, 2 Play Puff Pad, 1 Play Liquid Foundation, 2 Play Lipstick, 1 Play Blush & Giltter Pot, 1 Play Mascara, 2 Play Nail Polish, 1 Play Cosmetic Bag.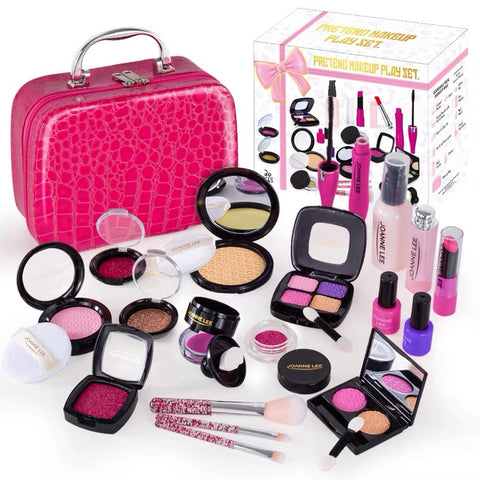 【Pretend Makeup Toy Set】The high-simulation cosmetic toys have a 99.9% similarity to real cosmetics and meet the aesthetic needs of children. Children like to imitate adults and dress up together with their mothers to cultivate aesthetic temperament from childhood.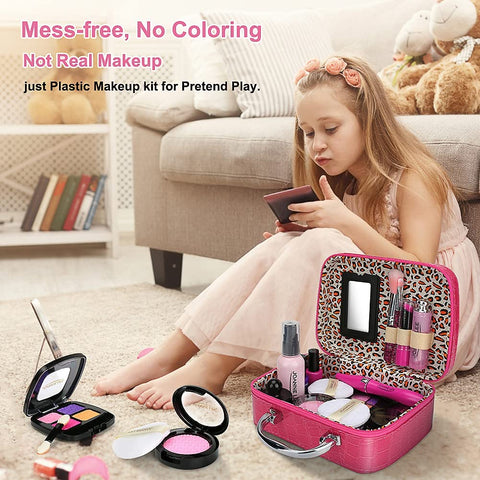 【Safe & Non-Toxic】This makeup toy set is made of environmentally friendly materials and is fully certified.No liquid or chemical substance, safe and non-toxic. The edges are smooth and round, no sharp points or corners, no liquids or chemicals, no need to worry about dirty hands and clothes, safe for children during play.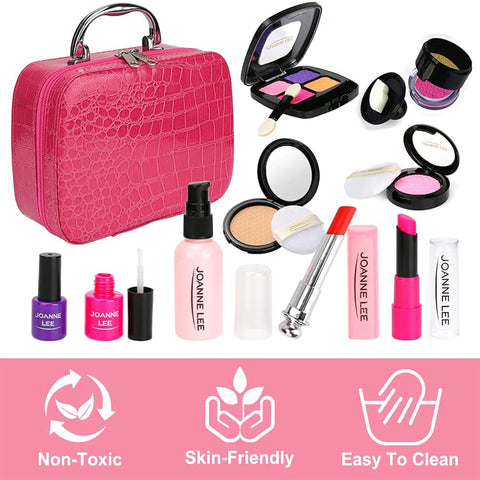 【Fashion Cosmetic Bag】The large-capacity storage cosmetic box design allows little girls to play with their beloved cosmetic toys anywhere, such as travel, makeup parties, etc. portable and easy to carry, allowing little girls to cultivate the advantages of actively storing and cleaning after playing. Size: Appr. 20*19*8cm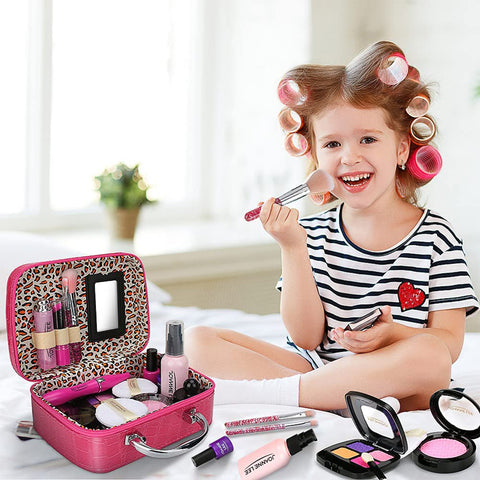 【Education In The Game】With this makeup early education toy, mothers can teach little girls about color and shape cognition, and improve their fine motor skills and the use of cosmetic parts. Can stimulate children's imagination, creativity, thinking ability, and manual flexibility. Bright colors help visual exercise, so this toy is good for early education and is the best gift for girls over 6 years old.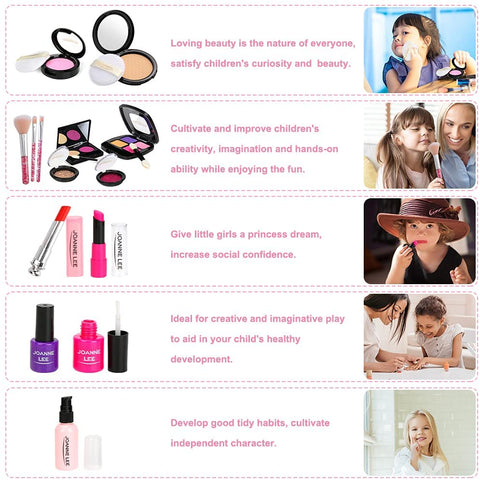 【Ideal Gift】This fake makeup set can be purchased as the most special birthday gift, Halloween gift, or Christmas gift, to give every little girl princess, and it is also very suitable for playing with friends. This makeup set is for little girls and friends Fun toys to play together can strengthen the communication between parents and children, and at the same time help children make new friends in party games.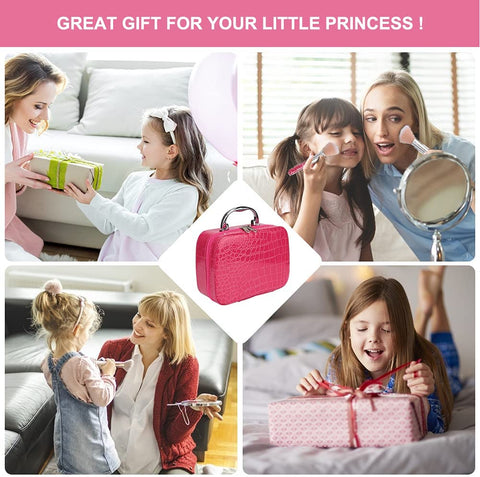 【Product Information】
Product size: 20*19*8cm

Weight: 650g

Suitable Age: 6+