【4 Themed Jigsaw Puzzle】
Elephant Dream
This Elephant Dream Puzzle with four layers: trees, shrubs, underwater and forest floor. Kids at this age are always curious about everything, eager to explore the unknown. This imagination-sparking puzzle will inspire them to discover themselves and their future passions.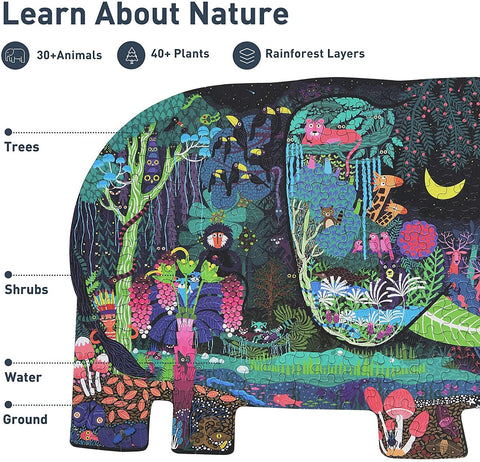 Dreamy Rhino
The Dreamy Rhino Puzzle is fun and educational. It will help children understand the life scenes of rhinos in various regions. With 23+ plants and 30+ animals, children can explore small animals in different regions in the world of rhinos and cultivate the ability to observe carefully.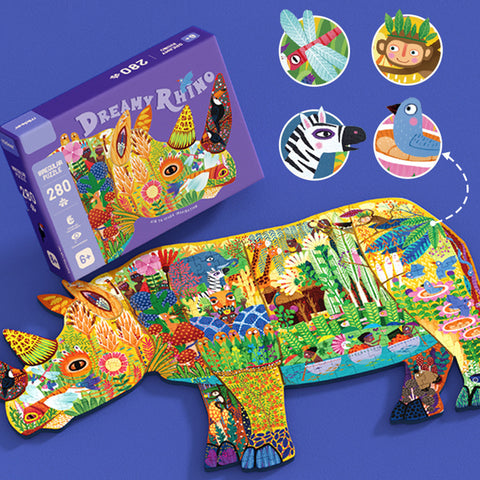 Dinosaur World
The Dinosaur World Puzzle has more than 20 dinosaur patterns, such as Spinosaurus, Caraposaurus, Plesiosaurus, Pterodactyl and so on. If your child likes dinosaurs very much, you can let him recognize dinosaurs in the puzzle and feel the prehistoric civilization.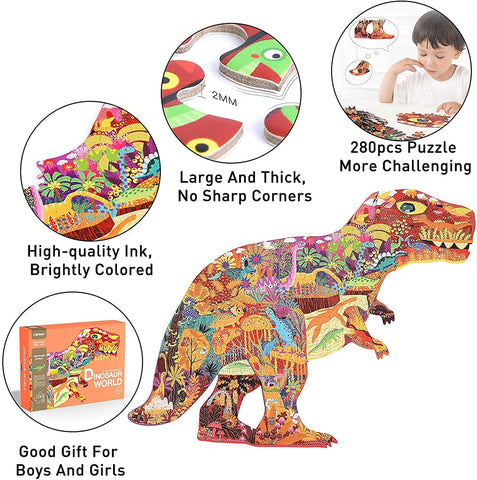 The Sea in a Seashell
The Sea in a Seashell Puzzle includes more than 20 kinds of plants, more than 30 kinds of animals, such as sharks, jellyfish, marine fish, starfish, corals, seashells, and so on. If the child is a biologist who likes to study, explore the wonderful underwater world in the puzzle, and increase the knowledge of the ocean.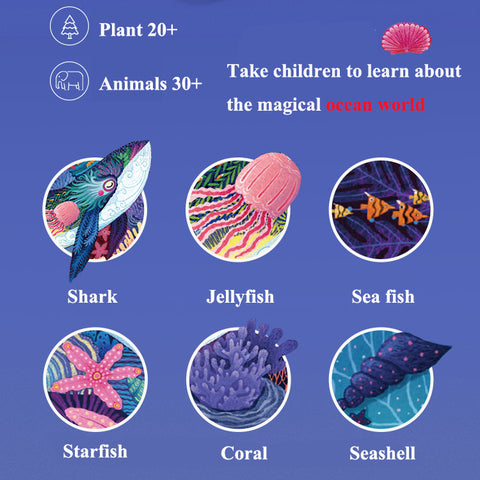 【Not Just A Puzzle】Frame your completed puzzle and hang it up to decorate your house, a beautiful work of art indeed. Take a picture and share it with your friends.

【Skills & Abilities】This 280 pieces puzzle helps hone concentration skills. Before play, think first and figure out a faster way to finish the puzzle: start from the borders to the middle or start from the legs to the body, which promotes imagination and logical thinking.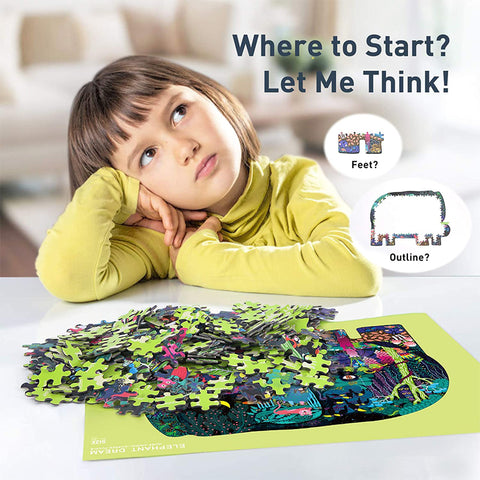 【Smooth & No Burrs】Non-toxic, extra-thick (2.5mm), environmental-friendly material with smooth & burr-free edges, encouraging safe hands-on play and learning fun.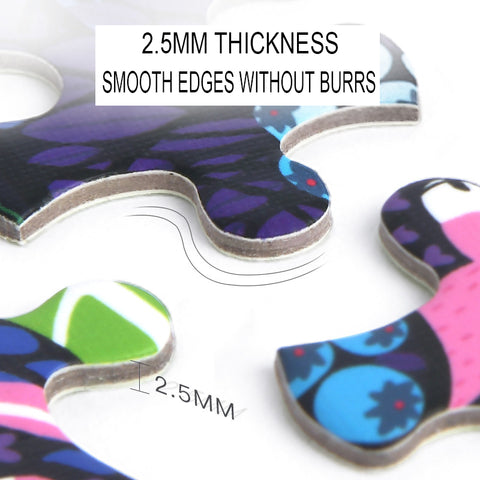 【Perfect Gift Choice】This beautifully illustrated animal-shaped puzzle makes an extraordinary gift for birthday, New Year, Children's Day, Halloween, or Christmas. Get away from busy life and take some time to sit with your child and finish the puzzle; what a great bonding time!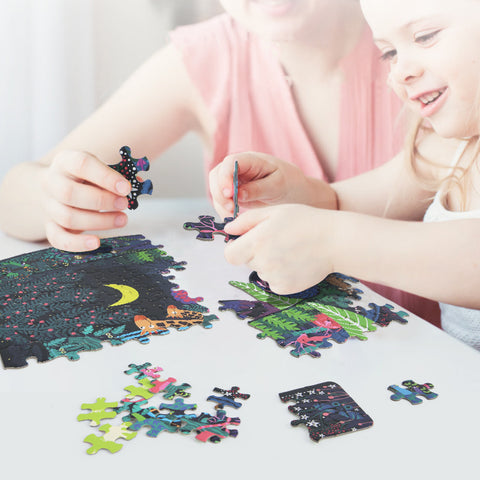 【Product Information】
  Puzzle Size: Elephant Dream         56cm×40cm          
                      Dreamy Rhino            73.5cm×38.5cm       
                      Dinosaur World          65.7cm×48.4cm
                     The Sea in a Seashell  72.8×39.7 cm 
Product Weight:  630g       
Suitable Age:  6+