【8 Classic Stories】8 fairy tales, 64 Slides, included. Parents can tell stories to their children to enhance parent-child interaction.  The Enormous Turnip, The Boy Who Cried Wolf, Cinderella, The Happy Prince, Pinocchio, I Want To Go To Space, Thumbelina, The Gingerbread Man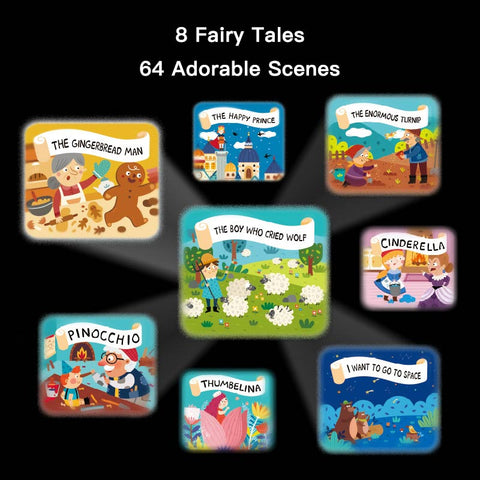 【Multi-function】Children's night light projector has many functions, such as seeing pictures, reading storybooks, star show, or as a starting night light. You can spend quality time with your children under the warm light. This projector is very light and cute, easy to carry, no matter where you go, you can bring this together with your kids.
【Time Switch Night light】The light is automatically turned off after 15 minutes. One-button fast switching.
Press Once: Story projection
Press Twice: Night light &Starry sky projection
Press three times: Light off.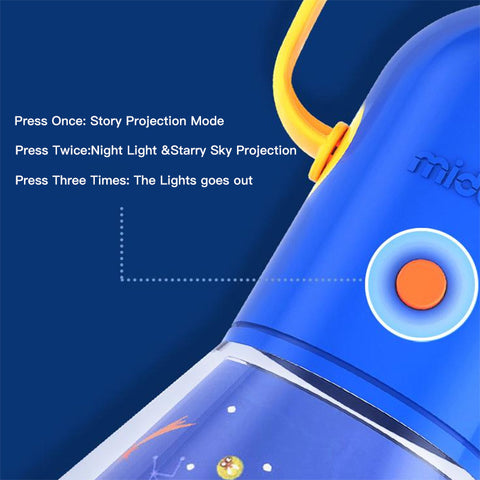 【Adjustable Focal Length】the zoom lens makes the image clearer. The farther the distance is, the larger the image is. The recommended projection distance is about 50-150cm.
【Product Information】1 ×Multifunctional Story Projector, 8× Story
Projector Reels, 1×Story book.