【SUPER INTERESTING PAINTING KIT】Our marbling paint kit for kids is a so fun water painting art kit, It fascinates children and adults as soon as they starting the item,several hours of art & crafts with family or friends
【NO NEED TO WAIT 24 HOURS 】No need for painting foundation, the water art paint set is suitable for kids of all ages and adults. Follow the instruction booklet, drop the paint on the drawing liquid, swirl to any pattern and transfer it on paper. So beautiful marble painted art, creative & fantastic water art kits. Attention: The ratio of the water to the paint powder is (1000g / 1000ml): 5g. You can have fun with this art kit 4~6 times.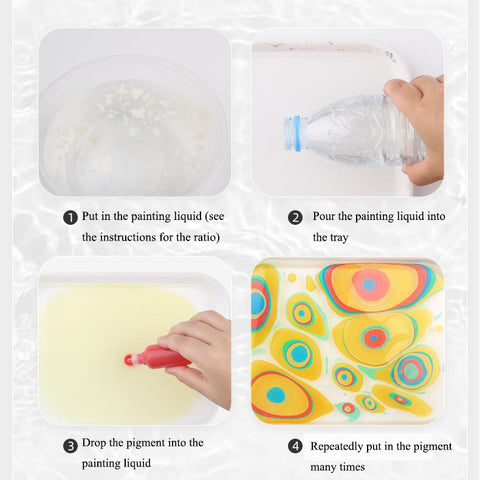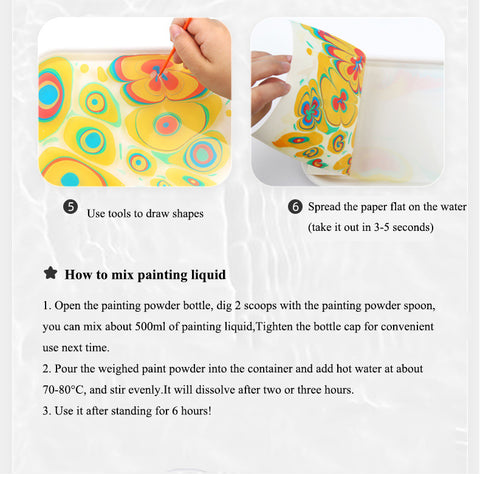 【SAFE AND FUN】The Paint Art Kit is safe and non-toxic, which is safe for your little angels to play with. The painting process is simple and delightful.
【STEM LEARNING KIT】Children can use the marbling craft kits to make wonderful water painting art on their own, which helps them develop their creativity and imagination. To complete the project, kids will need not just hands-on skills but also patience. As a result, it's an excellent STEM toy for children. Allow your child to create a work of art that you will be proud of.
【MARVELOUS CREATIVE GIFT】This marbling crafts for kids is an excellent gift for children since it intrigues them from the moment they receive it. An ideal kids' crafts gift that sparks kid's imagination and creativity. It can be used as a gift on special occasions such as birthdays, Christmas, Thanksgiving, or any other holiday.
【Product Information】
 The set contains 1 A5 tray, 12 colors 6ml floating paint, 2 packs of 15g paint powder, 2 droppers, 6 plastic stick needles, 15 marbling papers, 1 instruction.